In order to run an effective HOA, the mission and vision must be determined and agreed upon. These statements set the foundation for the association and ensure that both board members and homeowners are aligned in a common purpose. The actions taken by the board should be in alignment with the mission and vision, guaranteeing that the community is put first in a respectful fashion. 
Each community will have their individualized statements. Below you will find a sample we created for a community. If your HOA doesn't have a mission, vision, value statement or board objectives, you can take this language and modify as needed to fit your community. Don't forget, it must be voted in at the next board meeting and should be visible to all homeowners.   
Vision Statement Sample
We envision a community of neighbors working together in private, voluntary association to achieve a higher quality of life and increasing property values. We envision a building that is considered by residents and non-residents alike to be a desirable place in which to live. 
Mission Statement Sample
Our mission is to secure the investment of our owners and enhance the quality of life through management of common areas, enforcement of rules and covenants, support of initiatives that maintain the common elements and individual units, in addition to investment in capital improvements that benefit the greater good. 
Values Sample
In fulfilling our mission and achieving our vision we value honesty, fairness, firmness, equity, common sense, participation, respect, cooperation, and neighborliness in all our actions. 
Board Objectives Sample
Encourage collaborative and diverse participation that includes an involved membership. 

Utilize the experience of the Board members to make and implement responsible decisions and to be good stewards regarding the use of funds and assets belonging to the Association.   

Uphold the bylaws and policies of the Homeowners Association by taking a fair, ethical and objective approach in representing the interest of all homeowners to ensure that all additions/changes to individual units and common areas will preserve and/or enhance the value of our properties as a whole. 

Treat every issue which comes before the Board with respect. Resolutions and responses will be clearly communicated to affected parties. 

Protect and enhance the value of the Association by maintaining common areas. 
Communicate with homeowners in a timely manner through appropriate mediums and facilitating opportunities for activities and committees promoting a close-knit, neighborly community that works together for the good of all. 

Be mindful of and preserve the Board's Vision, Mission and Values.
Sample Communication of the Vision
In our experiences, once the vision statement, mission statement, values and board objectives are set, most homeowners get excited about the prospect of future projects. There may be times when it is necessary to communicate the vision of the association and show how the top priorities fit in alignment to that vision.
Here is an example we created for an association to illustrate the top priorities for the association.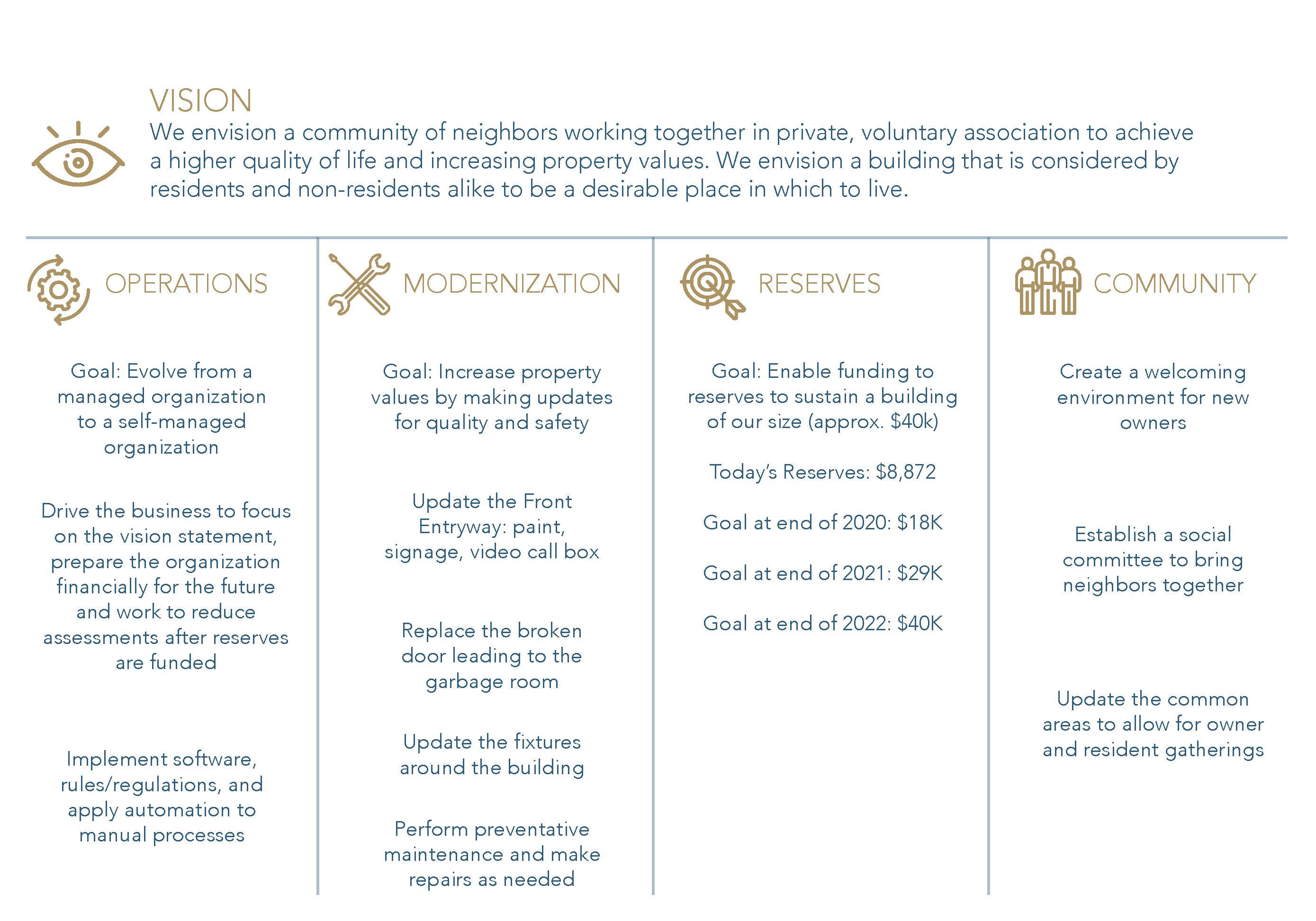 FREE Download: HOA Vision and Priority Alignment
As a business leader or owner, you know that streamlining operations can mean big savings for your...
read more
Lower My HOA Guides
Gain visibility into the HOA, increase property values and lower your HOA fees.
Join the Lower My HOA Inner Circle
Sign up here to receive notifications of new content and exclusive offers.